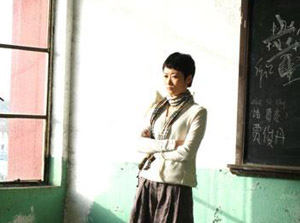 Cannes - Chinese director
Jia Zhangke
's haunting and unsettling portrayals of life in modern China would not appear to be the type of movies that the Beijing authorities like to see representing their country at the world's leading film festivals. But Jia's latest film
24 City
, which recounts the lives of workers in a factory earmarked for demolition to make for a skyscraper, has been selected for the race to win the prestigious Palme d'Or award at this year's Cannes Film Festival.
Pickpocket, his first major feature about a small town Pickpocket was shown at the Berlin Film Festival in 1998. Only a short time earlier, Jia was studying film in Beijing.
The film won two awards in Berlin, followed by awards in France, Canada, Italy and South Korea.
The inclusion of 24 City in the lineup of movies vying for top honours in Cannes this year comes two years after Jia's feature
Still Life
about the upheaval caused by China's Three Gorges Dam won the Venice Film Festival's celebrated Golden Lion.
It is also the second time that the 37-year-old director has been in the running for the Palme d'Or. Unknown Pleasures, which like his earlier films, was set in Fenyang province where he grew up in a small town, also premiered at the Cannes Film Festival in 2002 but missed out on the coveted top award.
Largely financed from abroad and exploring China's post-communist realism as the country makes its headlong dash into the future, Jia's films such as Pickpocket and Platform have not been released in mainland China.
The same is true of other members of his generation of filmmakers such as
Zhang Yuan
and
Wang Xiaoshuai
, who have also been unable to show many of their films to Chinese movie-goers.
But unlike the previous generation of Chinese filmmakers who churned out grand and sometimes historic and romantic dramas aimed at foreign audiences, directors such as Jia have been trying to chronicle the human fallout from globalization and the sense of alienation in modern China caused by its rapid and convulsive change.
Apart from the assault on the natural beauty of the region surrounding the Yangtze River, more than 1 million people were displaced by the vast hydroelectric Three Gorges Project.
Jia, who has made eight major feature films over the last decade, admitted in a recent interview that he found it hard in his filmmaking to keep pace with the changes underway in China.
However, considering the critical acclaim that Jia has already won, this year's Cannes could be unusual with a frontrunner for a top prize having emerged even before the festival opens and the first movie is screened.
Despite China's ambitions to emerge as a major moving-making powerhouse, no Chinese films were included in Cannes' main competition last year. 24 City is the only Chinese film entered in any of Cannes' sections this year.
This, some commentators say, has to do with Beijing's sometimes heavy-handed approach to its nation's film industry which may be resulting in bureaucratic delays in finalizing movies for international audiences.
But then, movies made by six-generation directors such as Jia often have an underground character and are largely produced outside Beijing's state system, financed by private or personal sources and touch on gritty often controversial issues such as corruption, sexuality and unemployment.
Jia tends to emphasize this by telling his stories through fusing together documentary and feature filmmaking techniques as well as using non-professional actors. Documentary filmmaking is something rarely pursued in China.
Jia's films are also often epics. In
Platform
, he traced the fortunes of the adolescent members of a state-sponsored peasant cultural group which was privatized and transformed into a breakdance electronic band.
In 24 City he looks at the lives of a group of workers over a 50- year period.